Long Boat trips on Neang Niak
For those who love boats or those who love getting off the beaten track, take a 2 or 3 day boat trip on Neang Niak. You won't regret the decision to take this trip - it is full of surprises. It is fascinating, interesting, educational and yet totally relaxing. You will spend time visiting various villages, seeing daily life and observing the many cottage industries that villagers are involved in to supplement their income
Depending on the time of day, you may see rice noodles being made, mat, cotton or silk weaving, water jar making, rice wine distillation, tofu skin production, boat building, bricks made by hand then hand loaded into a kiln with 100,000 others and fired for a week. Souen has a keen eye and can spot activities from a long distance that noone else would even notice so you will likely turn up at a village without having any idea why you just arrived!
There is ample time to observe the many variations of fishing (you will be astonished), the different types of often innovative and simple fish traps, the children playing in the river and the twice daily rituals of washing cows and horses at the water's edge
The longer you are on the boat and the further you travel, you will start to get into the rhythm of the boat and notice the changes in architecture of temples and houses, fishing techniques and changes in the vegetation
Depending on the season and trip, you may see vegetable and herb growing on the banks of the river, mango, banana and papaya orchards, kapok groves, cucumbers and daicons fermenting and the drying of chillies
During the dry season months, kayaking may be possible
A great alternative for bird lovers, is to visit a bird area on the Sap River 75 km from Phnom Penh during the months of October to December where thousands of birds roost. These include Asian openbill, Milky Stork and various egrets and herons. One can see hundreds and hundreds of openbills and storks roosting in the tall trees late afternoon then early morning they fly over head in the hundreds and possibly thousands to feed during the day. It is a great sight to see and for those interested in nature, a great trip
You will have delicious and plentiful amounts of good food and drinks whilst on Neang Niak. All food is freshly prepared and if supplies are required, we pull into a local market. We cater for those with food intolerances or allergies without trouble
Spending one night on the boat allows you to see and hear things you cannot see on a day trip. The reflections are often very beautiful and the nights are filled with thousands of stars. Watch the sunset whilst floating in a tube in the river and sipping a gin and tonic or rise early and watch the often beautiful sunrises over the Mekong. It is beautiful to spend a night or more on the boat - and a truly unique experience
As we have no cabins, sleeping will be on a mattress (sheets and blankets) covered by a mosquito net to keep out insects (very few if any over night). Sleeping can be on the roof, back deck or lower deck which is roof covered
An eco-friendly toilet is available on board. Bathing is in the river (quite safe and very refreshing). In the dry season you will be swimming frequently in the blue water. In the wet the silt flows so it is not clear like in the wet season but still quite safe to swim and bathe in
For those who like camping and 'roughing it', you will love this experience. We call it 'glorified' camping as it is very comfortable and you will have a restful night sleep. If you are not able to 'camp' like this, it is possible to travel to Kampong Cham in one day and stay in a hotel or guesthouse however a very early start and less stops would be expected if one chose this as an option. There are as yet no guest houses between Phnom Penh and Kampong Cham
Trips are usually only possible during the dry season (November to June or so) or at the beginning/end of the wet season before the daily rains start. This is to avoid the afternoon rains that shorten the day, however it will very much depend on the weather at the time - sometimes there is no rain for a couple of weeks during the wet season during which time, trips can be made
If you are interested in a boat trip, we recommend at least 2 days however 3 or 4 day trips can be arranged. A 2 day trip will include a stay overnight at one of the Mekong islands or on the Sap river viewing birds as mentioned above. A 3 day trip could include a visit to Kampong Cham or Kampong Chhnang. We can also pick guests up or drop them off somewhere along the length of the Mekong if they prefer not to have a round trip
Just let us know what interests you and we can give you a quote
From one of our guests
....Recently, we travelled for 8 months along the Mekong River from high up in the state of Yunnan China to the river delta in Vietnam. Where possible we boated and one of the most memorable boat journeys was on the "Neang Niak" with our hosts, Souen and Frances, from Cambodia Uncovered. We spent 3-days on the Mekong meandering from Kompang Cham to Phnom Penh. Taking the extra time to live on, and close to, the river was a wonderful experience. They are informative, open and wonderful hosts – there was never a time when we felt anything other than friends sharing a great trip, and a great adventure
They approach their hosting services with such professionalism and style. We were indulged – great food cooked on board, good wines and drinks and great company

Among many highlights these live on in our memories:

Being rocked to sleep on the boat's back deck, under the stars, hearing the night-life of the river all around
Waking to a glorious sunrise and wonderful coffee before a dip in the Mekong
Deciding what to eat that day and, later on, pulling in to a river-side village to go shopping for dinner
Stopping here and there as something took Souen's trained river-eye – in a paddock, in a village, up a side-stream – and he exposed us to a side of Cambodia that we could never have experienced alone
And at the end of a truly enjoyable and informative 3 days the final thrill of arriving in Phnom Penh by river boat – it should not be missed. If you have the time spend a day, or two or more, on the river with Cambodia Uncovered
For anyone travelling down from the north we recommend this trip most heartily – what a wonderful way to enter the Cambodian capital....
Neang Niak - 'Daughter of the Dragon'
'.....We thoroughly enjoyed the boating experience, the sunset G and Ts and Souen's food - among the best meals we had on the whole trip.....'
Beautiful reflections are seen early morning and late afternoon
And from guests who returned two years after their first trip...
'.....We are safely home again after another memorable trip. The overnight Mekong boat trip was the highlight giving us the ability to drop into all the riverside activities. Once again you all looked after us impeccably in Phom Penh.....'
Gourmet lunch served with wine or beer
'.....Anything to do with boats and water! We really enjoyed your boat and wished we had spent more time travelling in that way.....'
Enjoy kayaking early morning or late afternoon
'.....The trip was really fabulous.....'
Comfortable area to relax and enjoy the scenery
Asian Openbills roosting on the Sap River (hover over photo to enlarge)
Dusk reflections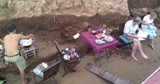 Preparing breakfast whilst moored at an island
'.....You will be fascinated by the skills needed to eek out a living, and humbled by the genuine warmth of engaging people.....'